Support activities for MKF in 2019
We stayed at MKF for three nights in the Asian Beat Project, and stayed in Northern Thailand for two days and one night to exchange songs and dances with the children and enjoyed the meal together. It was the time of the Loy Krathong festival, so we washed lanterns down the Kok River, raised Komroys, and enjoyed the Loy Krathong festival.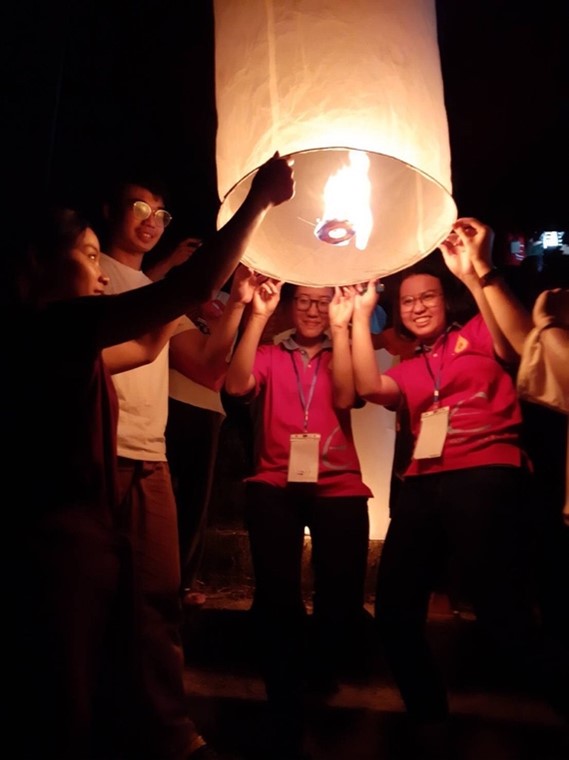 At that time, Ms. Anuluck told us, "Thailand's economy has deteriorated, and the annual donation of 500,000 yen from business people has been cut off. If we continue as it is, we may not be able to continue MKF's management." It's terrible! So, we asked OCA members to donate from December, and we received warm donations. A total of 630,000 yen was collected from donations from everyone, charity dance classes, and sales of T-shirts.
The charity dance class was suggested by Momoko Hoshino and was held in Tokyo and Osaka. 20 participants from Tokyo and 30 participants from Osaka donated. As for the sale of T-shirts, 50 T-shirts designed by Ms. Anuluck were sold at the Tokyo performance of Common Beat, and the takings were donated.
On January 10, 2020, Tetsuya Koinuma brought the donation to MKF and handed it to Ms. Anuluck.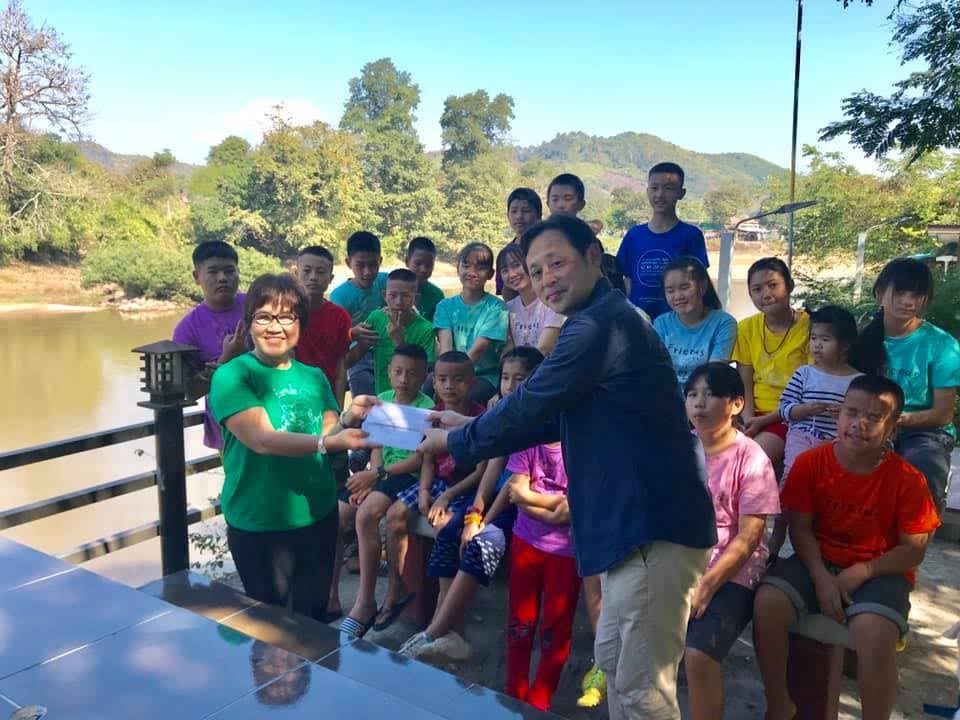 Support Activities for Ban Rom Sai in 2019
Baan Rom Sai is an orphanage established in December 1999 in the suburbs of Chiang Mai, northern Thailand, as a living facility for orphans infected with HIV. At the time of its establishment, some children developed AIDS and died, but no children died after 2002 when they adopted anti-HIV therapy, and effective drugs have been developed since then, and children are now living well.
At the time of its establishment, there was prejudice due to HIV and AIDS, but at Ban Rom Sai, by opening the library and having children and mothers in the village use it, mutual understanding has been promoted and prejudice and discrimination has been eliminated.
OCA has been providing donations every year since 2013 to help children learn and to run the Ban Rom Sai Library, which serves as the center of the village community.
At the end of 2019, Ban Rom Sai gave a detailed report on the library project at the end of 2019.
The purpose of the library:
Interaction between Ban Rom Sai, children and village children
Being a source of information for children
Acquire reading skills
To acquire manners in public facilities
Have fun and meaningful free time
Provide a safe place for children after school
Currently, there are 40 children in the village, and a total of 400 children have been using it since the library started operation. It is used by students from the middle grades of elementary school to the third grade of junior high school. It is open from 16:00 to 18:00 after school and 20 to 30 children attend every day. There are also two part-time workers, a fifth grade of elementary school and a second grade of junior high school student, who take care of clean up and manage the children who come to the museum, and also support the families of children who can study in the village.
Children read books, watch DVDs, and do homework using computers. In addition, we hold a writing and reading impression contest for "Thailand's Important Day", prepare stationery and other prizes, and recommend and support children's reading and writing. OCA donations are used to buy books and DVDs, buy prizes for events, pay for a small part-time job, and maintain a computer.
There are reports of active library use and the facilities are in good condition. We are glad that the children have been using it carefully.
Asian Beat visited in November and held a singing and dancing exchange party.