Support activities for MKF in 2021
The Long-Awaited Computer Room Has Been Completed!
Mae Kok Foundation (MKF)'s business income fell due to the pandemic, putting it in a very difficult financial situation.
In addition to our annual donation of ¥400,000 yen to the agricultural projects that MRA Foundation organizes, MRA Foundation made an additional remittance of ¥300,000 yen for emergency support. At the same time, we were able to collect ¥660,000 in individual donations by soliciting donations from OCA members beginning in November 2021.
"Make a Difference" members who are active mainly in Nagoya, and charity projects centered on Asian Beat cast members participated in the fundraising events. These personal donations were sent to MKF through the account of MKF Support Association. We also received a donation of ¥240,000(71,000 Thai Baht)from everyone at OCA Thailand. In all, we collected and sent a total donation of ¥1.6 million for MKF in December 2021.
To those that donated, we would like to express our sincerest gratitude. Thanks to you, MKF's business situation has stabilized. With these donations, we were able to build a children's computer room, which was one of our goals for the year. We put a glass door in one corner of the activity rooms, installed insulation, installed an air conditioner, added a remodeled desk, and bought two computers. Wi-Fi was set up, and an opening ceremony was held on February 19th. They invited the Directors.
The children are now doing homework, doing research, and studying each on his or her own computer — provided by you. We eagerly anticipate the wider range of knowledge they will now have access to.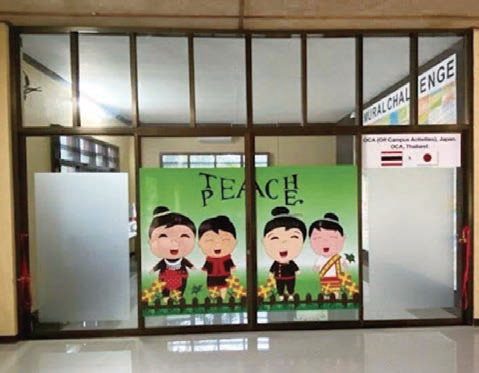 Visit a "Make a Difference" Charity Event
"Make a Difference" – active mainly in Nagoya – has been hosting successful fundraisers for MKF since the end of 2020. We heard that one event would be held at Mihama Farm in Mihama Town, Aichi Prefecture, so we visited. Mihama Farm is a long-term project aimed at "preserving soil for our children", and aims to open in 2013. This event featured rice balls cooked in a mess tin, pork miso soup, roasted sweet potatoes, and professional hand massages.
This rice ball and pork miso soup were the best! Another attraction was a waterless toilet – treated with sawdust and microorganisms. The children got to learn how it worked. Mihama Farm was a relaxing and comfortable space dotted with orange trees. MKF also produces pesticide-free vegetables, fruit trees, and beehouses. There were many things in common between Mihama Farm and MKF, and I felt a strange connection between them.
Thank you for donating all the profits from the ticket and food sales. We were inspired, and we hope to plan such events in Kanto perhaps even in the suburbs of Tokyo.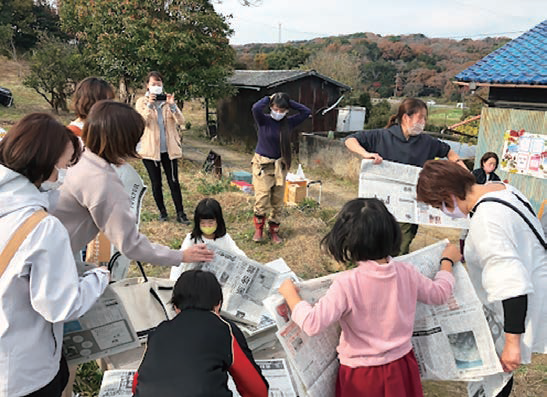 MKF Support Charity Project
This is a report of a new charity project launched by the AsianBeat Program staff. Participation fees for this program went to MKF through the account of "MKF Support Association.
1. Global Charity Run & Walk
Period: July 10-25, 2021 (14 days)
Number of people: 29 (participating countries: Japan, Thailand, South Korea)
Donations collected: ¥56,616
Combined distance of all walkers and runners: 1366.23km
2. Global Charity Cooking Class (Thai cooking class)
Period: October 10, 2021 (2 hours)
Number of people: 7 (participating countries: Japan, South Korea)
Donations collected: ¥10,500
Cuisine: Green curry, banana coconut milk
3. Global Charity Tidying Up (decluttering)
Period: December 26-30, 2021 (14 days)
Number of people: 21 (participating countries: Japan, Indonesia)
Donations collected: ¥57,500 
Each program incorporates a lot of ideas that participants can participate in happily.
No quotas are set and each participant pursues the goals he she wishes to achieve over the course of the event.
Charity goals are subordinated to the goal of forming meaningful connections.
Charity becomes another context for discussing what we can do for society.
We recruit participants not only from Japan but also from overseas.
For more information about these initiatives, please check the latest information from our website and join us!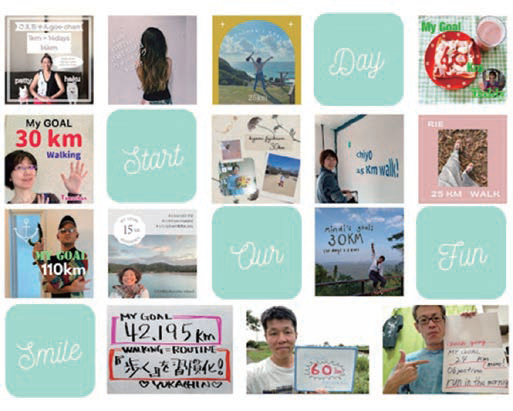 For the latest information on charity projects supported by MKF, please see the following website.
Donations from individuals are sent to the MKF through the MKF Support Association.
Charity Planning – Asian Beat Project
Support activities for Ban Rom Sai in 2021
Ban Rom Sai, Library Project Donation
Ban Rom Sai is a living facility for orphans infected with HIV in Chiang Mai, northern Thailand. In recent years, they have also accepted children from the National Orphanage. At the time of its inception, there was prejudice and discrimination in the village, but the library has become available to children and mothers in the area, and attitudes in general towards the facility have improved. The library now serves as a community center in the area. Since the library was built, OCA has donated ¥400,000 a year to maintain and improve it. However, due to the pandemic, external use of the library has been restricted, so, this year, it was only available to the children in the facility. It was reported that the library and computer room, where the coolness can be taken amid concerns about the record heat and the effects of PM2.5, have enriched the children's stay home and made great use of them.
Our hope is that the Corona disaster will soon be over and lively reading events can resume.