OCA has been making annual donations since 2013 to the Mae Kok Foundation (MKF), an orphanage in Chiang Rai, and an orphanage Ban Rom Sai which mainly accepts HIV-infected orphans in Chiang Mai. In addition to donating to projects that help children grow, Japanese and Thai university students and Asian Beat participants continue to visit the facilities to learn about various local circumstances and problems and interact with the children. It is a popular project which you can experience the wonderful natural climate of northern Thailand and the smiles of children.
Support for the MKF
MKF has started with the members of Thai and overseas students with the late Mr. Pipat Chaisurin, the husband of the current representative Ms. Anuluck Chaisurin, along with Professor Jiro Tobe, who was a teacher at Seigakuin Junior and Senior High School at the time, and Professor Shigeru Takehara of Reitaku University. It has started by holding a "study tour" to visit the rural areas and hill tribes of Chiang Rai and experience their lives. While learning about the current situation in northern Thailand at that time, problems came up such as drugs, poverty, prostitution, and education. Among them, drug addiction was a serious problem because of the long-standing practice of drug cultivation causing many secondary problems.
After that, Mr. Pipat set up a rehabilitation facility for drug addiction and started activities aimed at eradicating drug addiction in the village, and the activity was so successful that it was taken over by the Thai government. He came up with the idea that education for children is important for creating a drug-free society. At that time, many parents of children in the village died of drug addiction or were imprisoned, and many of them had no parents. The children were kept in relatives' homes, but many of them did not receive sufficient food, clothing, nor education. Children in such a situation were taken care of and sent to school together, and the number of facilities was gradually increased and the current form of the MKF was made up.
Currently, 19 children aged 8 to 17 are living in the dormitory. Recently, in addition to the above-mentioned drug-related children who have no parents, they also accept children who cannot receive parental care due to neglect (abandoning childcare), divorce of parents or migrant workers. Ms. Anuluck and other staff are taking care of it. In recent years, she has been focusing on food education for self-sufficiency in agricultural projects.
OCA has donated 400,000 yen every year since 2013, and has visited MKF twice a year for the Asian Beat and Northern Thailand projects. The donation of 400,000 yen has been used to support agricultural projects for the past several years. Together with the staff who guide the project to teach self-sufficient dietary education, they reclaim the land and turn it into fields, plant fruit trees, and manufacture and sell cookies and sweet bread from the resulting crops.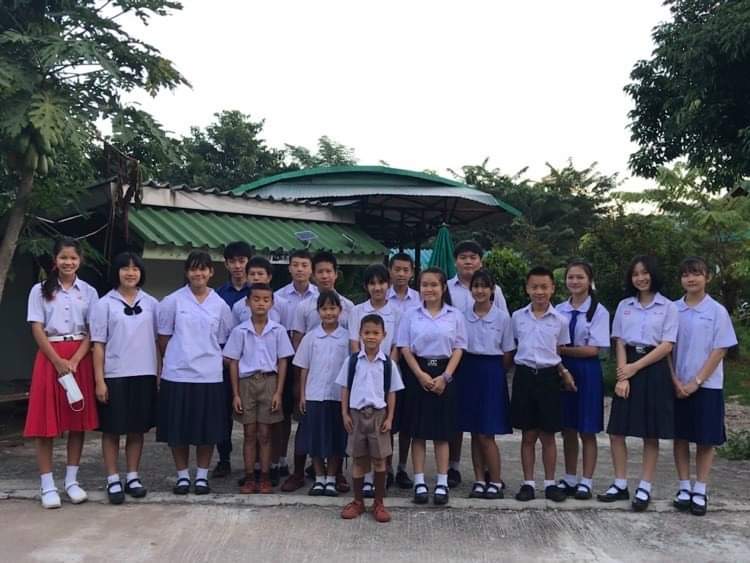 Support activities for MKF in 2019
We stayed at MKF for three nights in the Asian Beat Project, and stayed in Northern Thailand for two days and one night to exchange songs and dances with the children and enjoyed the meal together. It was the time of the Loy Krathong festival, so we washed lanterns down the Kok River, raised Komroys, and enjoyed the Loy Krathong festival.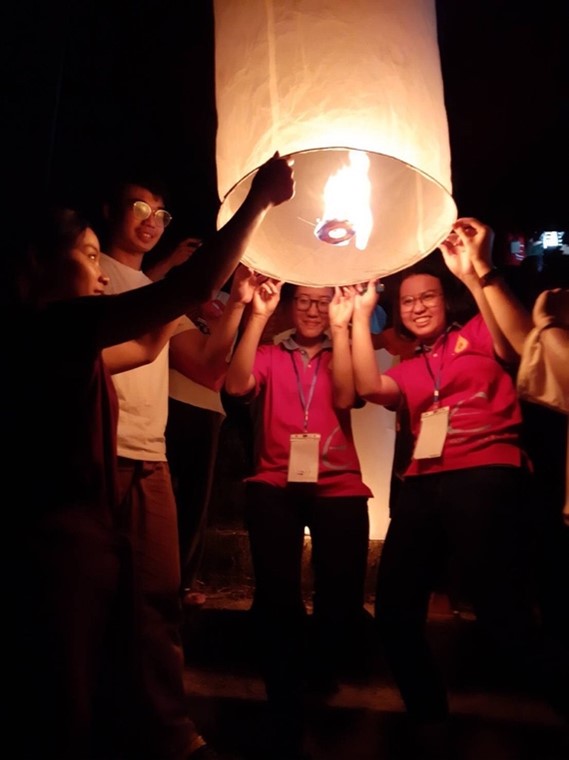 At that time, Ms. Anuluck told us, "Thailand's economy has deteriorated, and the annual donation of 500,000 yen from business people has been cut off. If we continue as it is, we may not be able to continue MKF's management." It's terrible! So, we asked OCA members to donate from December, and we received warm donations. A total of 630,000 yen was collected from donations from everyone, charity dance classes, and sales of T-shirts.
The charity dance class was suggested by Momoko Hoshino and was held in Tokyo and Osaka. 20 participants from Tokyo and 30 participants from Osaka donated. As for the sale of T-shirts, 50 T-shirts designed by Ms. Anuluck were sold at the Tokyo performance of Common Beat, and the takings were donated.
On January 10, 2020, Tetsuya Koinuma brought the donation to MKF and handed it to Ms. Anuluck.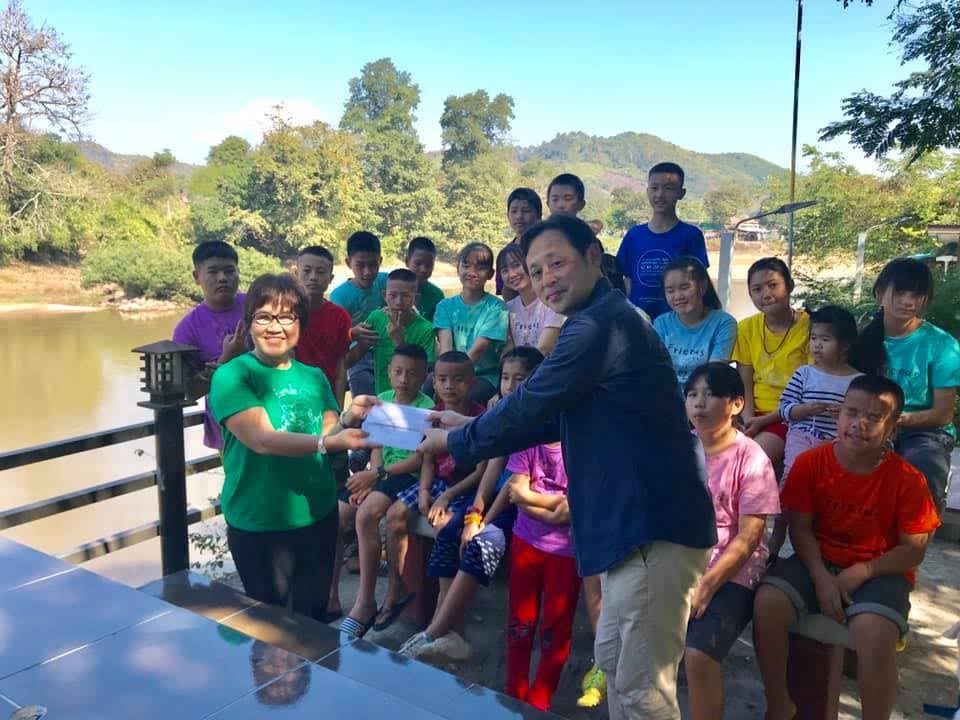 Support activities for MKF in 2020
It's been a tough year with the Coronavirus. A state of emergency was also issued in Thailand, and people all over the world could not travel abroad freely, so it became impossible for MKF to rent places such as training accommodations and camps, which are the pillars of income, so there is no prospect of income. The survival of the Foundation is in jeopardy. At OCA, discussions were held with Ms. Anuluck so that MKF could survive.
In addition to the annual donation (agricultural project) of 400,000 yen, the MRA Foundation also agreed to donate an additional 300,000 yen by matching donation when the individual donation reached 300,000 yen. For personal donations, we were able to send a lot of donations with the cooperation of OCA members, Common Beat, and a seminar corporation "Make a Difference" hosted by OCA member's old friend Fumio Mori. We would like to thank everyone. The amount of donation is as follows.
Personal donation 557,213 yen
Matching donation MRA house 300,000 yen
Total 857,213 yen
To thank them for their donations, we sent them the MKF children's handwritten cards and their own caricatures with their dreams for the future. We got a warm feeling. We hope that all the supporters will feel like their uncles and aunts (also elder brothers and sisters) who want to keep an eye on them.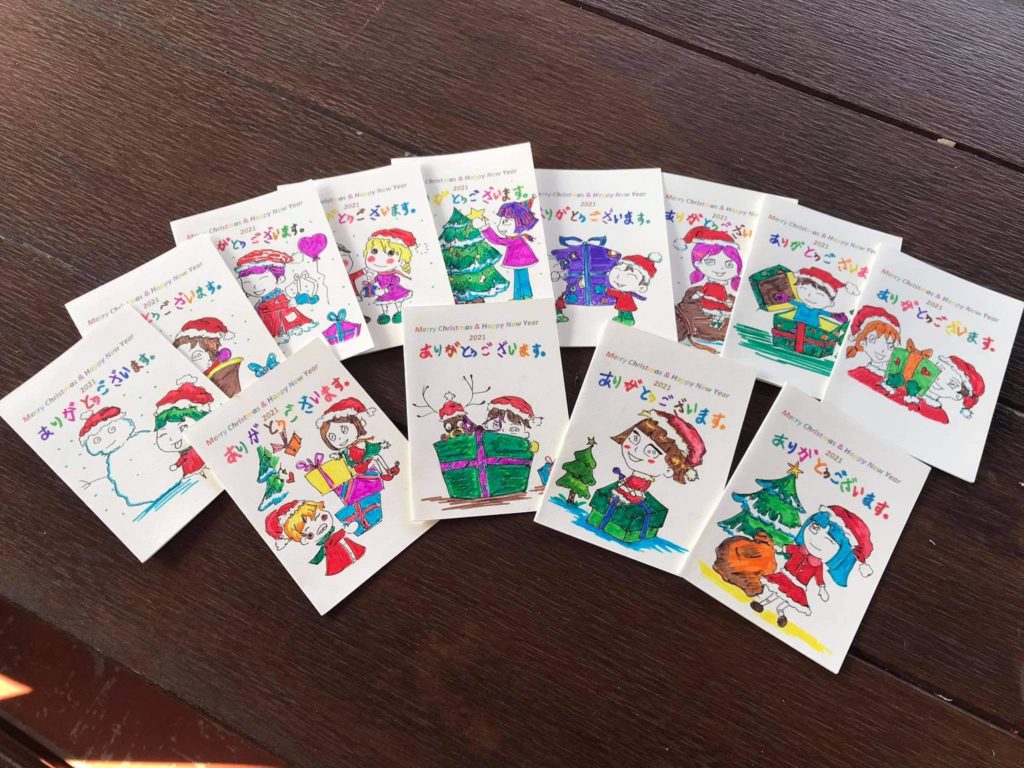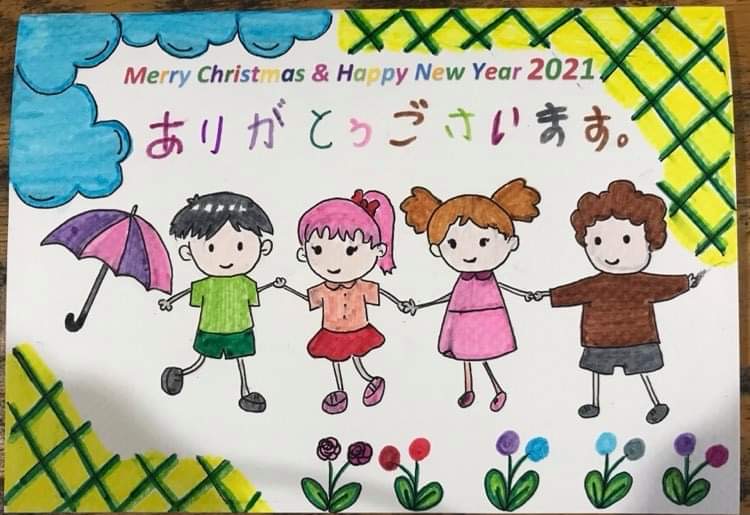 The 2020 agricultural project reclaimed fields and planted the popular fruit durian saplings at MKF. With this donation, they bought equipment for making sweets such as a gas oven. The production capacity of cookies and sweet bread has increased at once. It also sells to participants of seminars that use the facility, and mail-order sales to people in Chiang Mai and Chiang Rai. We definitely want to eat it when we can travel to Thailand.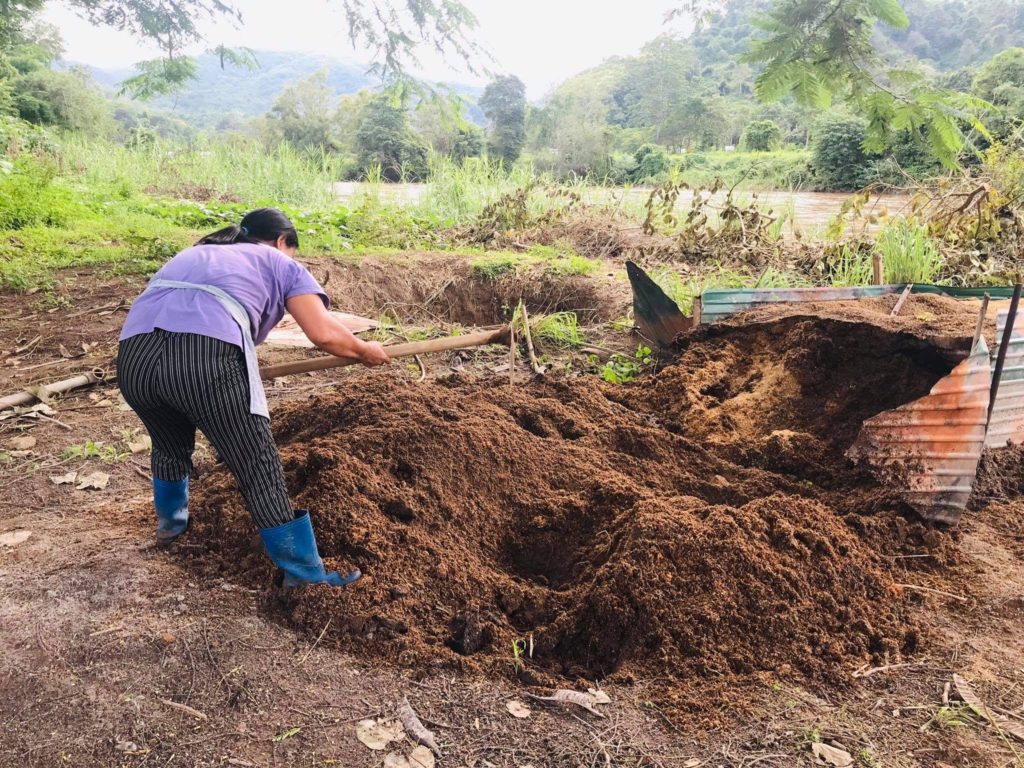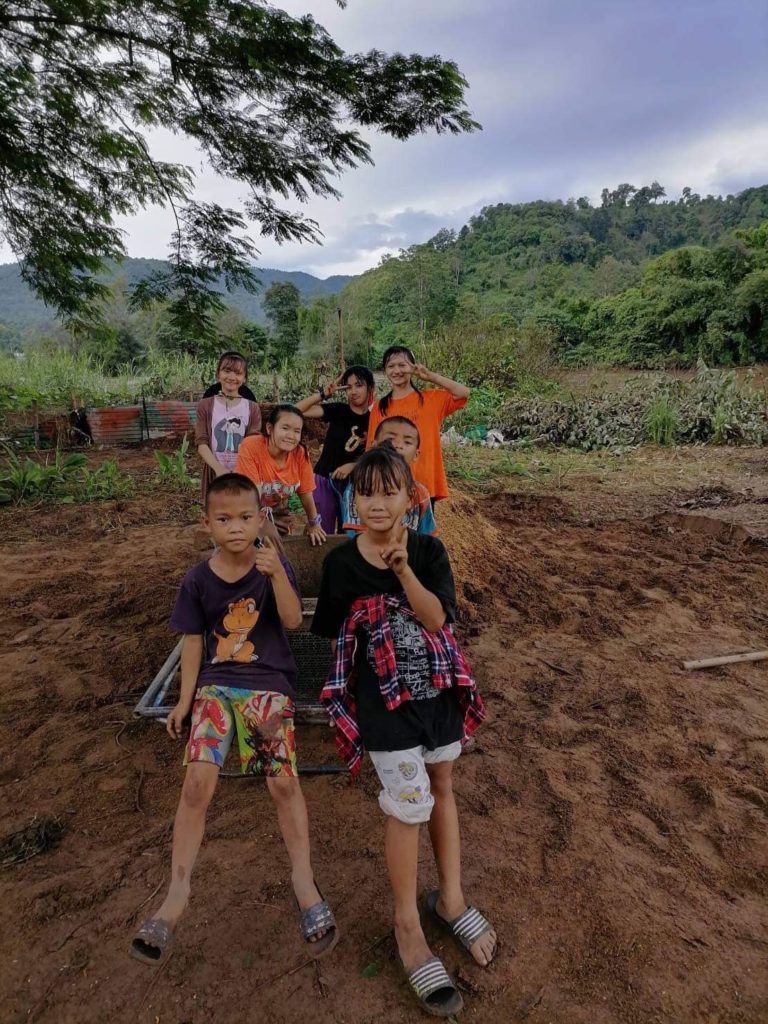 Support for Ban Rom Sai
Ban Rom Sai started as an orphanage for children affected by HIV / AIDS, and was established in 1999 by Ms. Miwa Natori in the suburbs of Chiang Mai. When Natori visited a German doctor who lived in Thailand with her friend and stayed in Thailand, she helped care for HIV-infected people under the guidance of the German doctor. One day before the HIV-infected woman died, she took Natori's hand and lamented, "I'm not worried because I'm going to heaven, but I'm really worried about the children left behind." Natori took care of her mother, promising, "Don't worry, I'll take care of them." She then set up an orphanage, Ban Rom Sai, to raise HIV-infected orphans in the suburbs of Chiang Mai. At that time, AIDS was rampant in Thailand, and many people were infected and died. Since many children lost their parents due to this disease, and many were born HIV positive through mother-infant infection, it was a quick decision to establish a living facility accommodating 30 children. At the time of establishment, many children appeared AIDS and died. Natori herself attended 10 children's deathbed. Nowadays therapeutic drugs have become widespread, leading to a normal life and preventing mother-infant infection. Currently, Ban Rom Sai accepts HIV-infected children as well as children who have difficulty living with their parents due to various reasons.
Ban Rom Sai is operated by donations from the NPO Banromsai Japan, which sends the collected donations and profits from selling originally produced clothes and accessories. They are also making various efforts such as having soccer players and artists from Japan come and teach them so that children will be interested in art and soccer in addition to their study.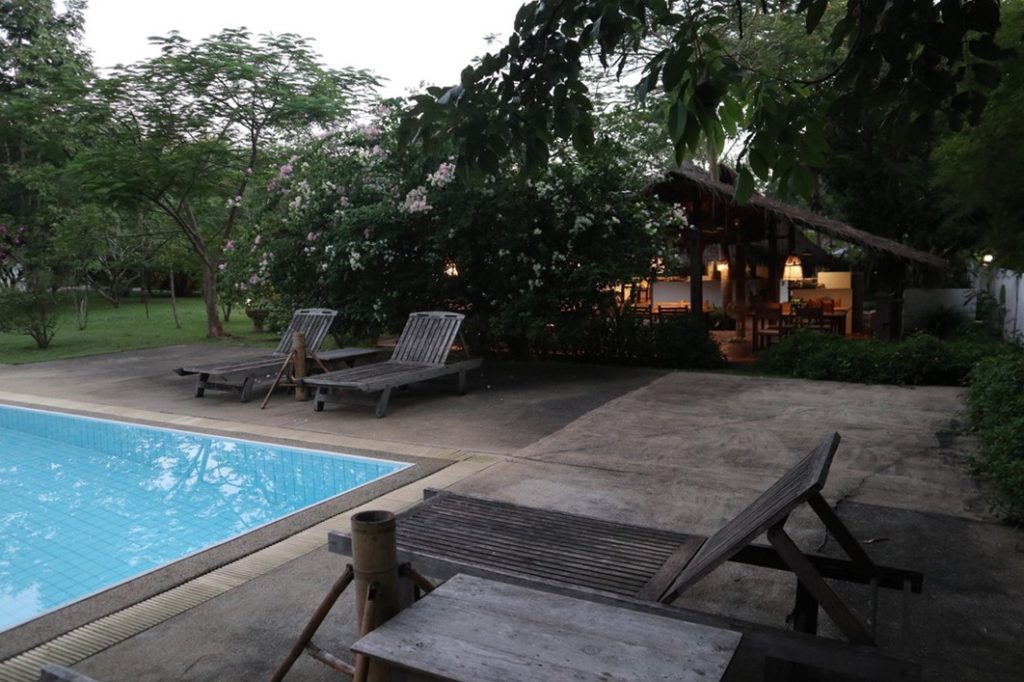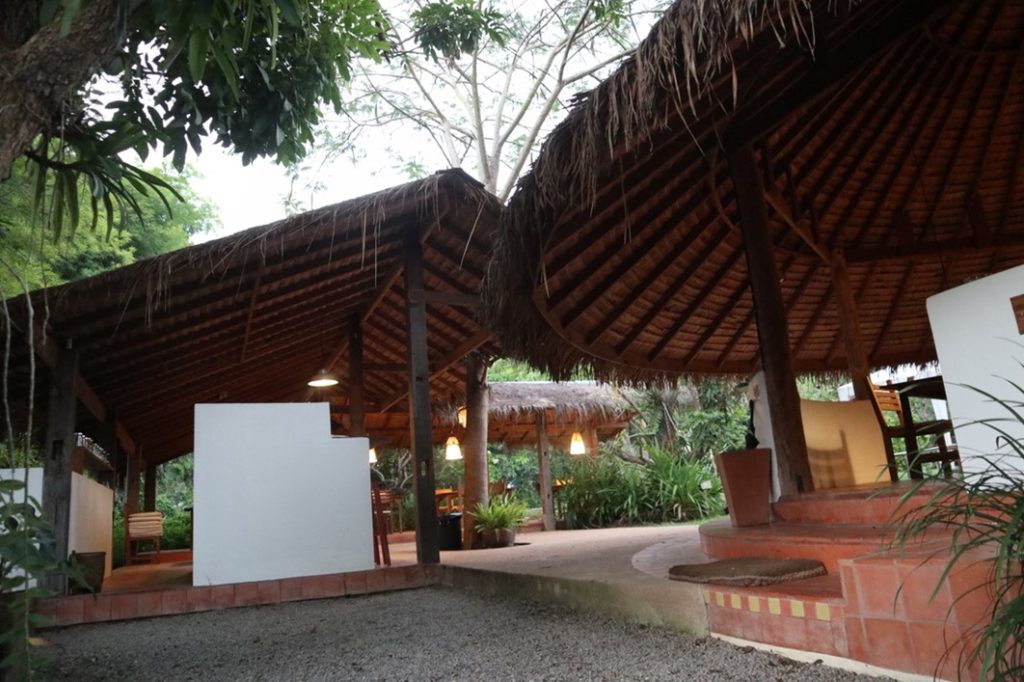 Library project
OCA has been cooperating with the operation of library projects since 2013. We donate 400,000 yen every year. The library is an after-school place for not only the children of Ban Rom Sai, but also the children of the village. Previously, there was a prejudice against HIV infection and orphans in the area, and Ban Rom Sai and the children were isolated, but by opening the library, Ban Rom Sai children and local children became participating in the event together. The mutual understanding deepened by studying, and now it has become the center of communication in the region. Not only you can acquire knowledge by reading books, but you can also acquire public rules such as using computers in order and taking good care of books.
Donations to OCA's library project include not only the purchase of new books and DVDs, but also the purchase of prizes for reading impression contests and Thai holiday-themed essay and picture contests, and maintenance costs for computers and printers. It is used to support operating expenses such as purchasing consumables. We hope that the use of this facility will improve the quality of education for children and help close the gap in educational opportunities between urban and rural areas. We want it to be a place where children can develop their dreams for the future.