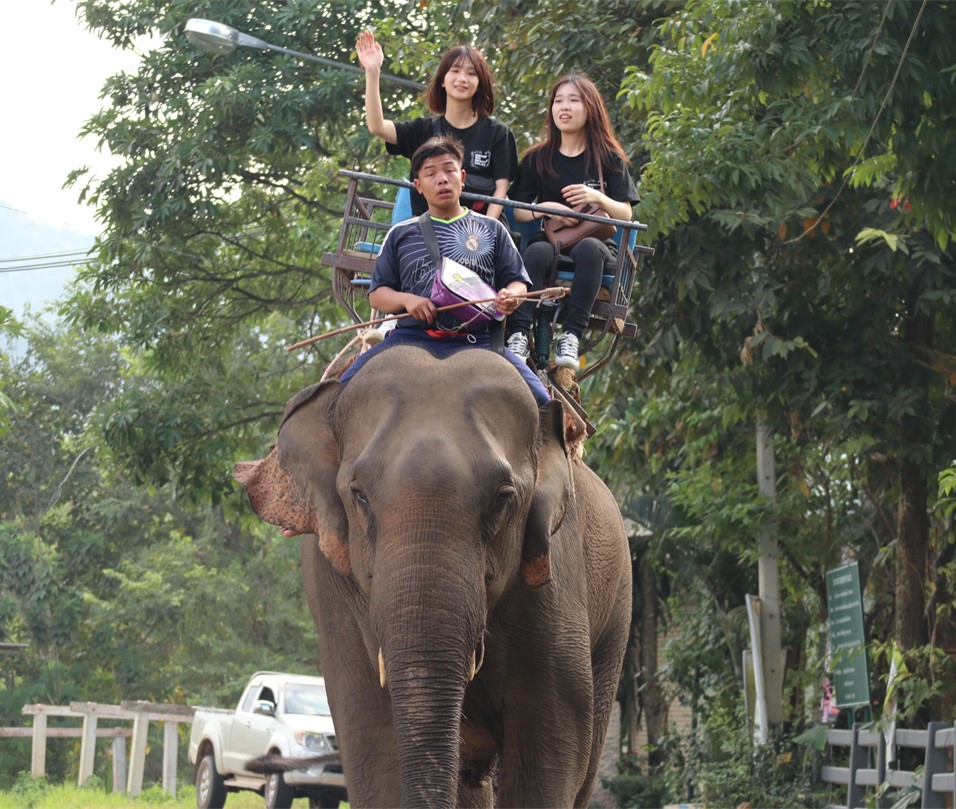 The "Northern Thailand Tour", which had been suspended due to the Corona pandemic, was held from October 23rd to 30th for the first time in three years. 13 Chuo University Komoriya seminar students, Professor Komoriya, and two from Saitama University participated from Japan. A total of 27 people participated in the tour, including 6 students and 2 staff members from Chulalongkorn University and 3 staff members as measures to prevent the spread of COVID-19. In Chiang Rai, 10 students from MFU (Mae Fah Luang University) and Dr. Rapipong participated and spent time together in Mae Kok Foundation (MKF), an orphanage.
In this tour, we asked the students to do their own work, based on the idea that the students themselves would create this tour. The participants were divided into three groups, responsible for overall planning and infection control (temperature check one week before departure, guidance on PCR test implementation 72 hours before departure, temperature measurement every morning during the tour, checks with antigen test kits for those who participate in the tour on the way etc.), transportation (methods and procedures for transportation, luggage check, etc.), and video recording of the tour.
Although the coronavirus has calmed down, this tour was carried out with the highest awareness and efforts of the participating students, considering the utmost caution and countermeasures. Thanks to all of you, we were able to finish the tour without anyone infected or having a fever.
Also, on this tour, Chulalongkorn and MFU friends who participated in the "Summer Camp" held in Kobuchizawa "Megami no Mori" in Yamanashi Prefecture in August this year welcomed us and acted together until the end. It was a tour where the friendships that were formed at the summer camp blossomed again.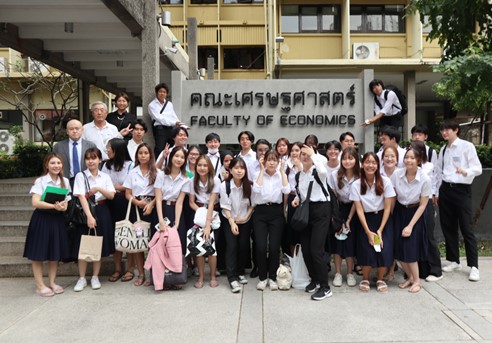 On the morning of Sunday, October 23rd, the participants gathered at Haneda. With excitement and anxiety in our hearts, the "Northern Thailand Tour" has finally started for the first time in three years.
The students participating in the tour have held online study sessions about Thailand, and have studied the economic disparities in Thailand and the actual conditions of ethnic minorities in northern Thailand. The day after we arrived in Bangkok, Mr. Teruhiko Sekiguchi, director of the International Labor Foundation Bangkok, who was a lecturer at that time, guided us to the community of "Onnut", one of the slums in Bangkok.
Students from Chulalongkorn University also participated in this, one student from Chulalongkorn knew that there were slums in Bangkok, but he could see a new perspective of those who were forced to live in a harsh environment on this country. He expressed his impression that it was good to be able to know it.
After visiting the community, we asked Mr. Sekiguchi about income disparities, slum issues, and the current situation in Thailand. The reality is that the economic disparity between urban and rural areas in Thailand is severe, and due to the economic development of Thailand, there is always a labor shortage around Bangkok, and migrant workers from rural areas and foreign workers from surrounding Myanmar, Laos, and Cambodia gather in slums. They are engaged in a tough job called 3k. The children there are also poorly educated. Even in a difficult situation, they continue to live in the slums rather than returning to their home countries. About two million people, one-fifth of Bangkok's total population, live in nearly 2,000 slums.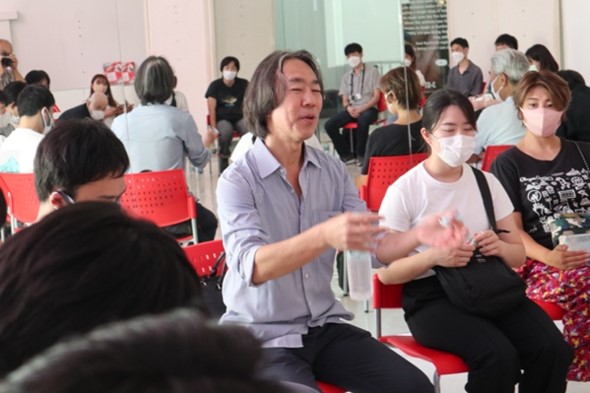 October 25: Visited Chulalongkorn University. We were welcomed by Professor Sirimar of the Faculty of Economics and other students, and held a seminar with Chuo University.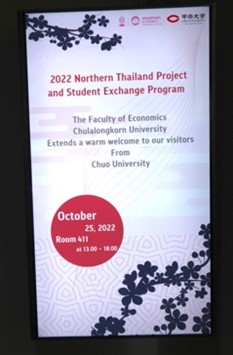 As part of the Chuo University Komoriya Seminar, three groups gave presentations on their research in Japan.
Team 1: "Effectiveness of Thailand's Policies and their effects on location choice of Japanese Subsidiaries"
Based on the current situation in which Japanese companies' location factors in Thailand are changing, they clarified what factors can be cited along with Thai policies. With regard to direct investment from Japan to Thailand, a research presentation was made on the susceptibility to the impact of environmental policies on footloose industries (industries that are easy to move from one location to another) and those that are not.
Team 2, "Should Used Clothing Trade Be Promoted or Not?", Made a presentation about the possibilities of the influence of second-hand clothing imports on GDP growth in countries where the textile industry is important and in countries where the textile industry accounts for a large proportion of GDP.
Team 3: "The Impact of Short-term Online Study Abroad on the Parties Involved"
Based on the questionnaire of those who experienced it, they verified and announced how effective "Online Study Abroad", which has increased due to the Corona pandemic.
After the seminar, the students from Chulalongkorn took us a tour of the campus.
We visited a historical museum that explains the founding of Chulalongkorn University and a library with the latest design. Japanese students were particularly interested in the sophisticated library.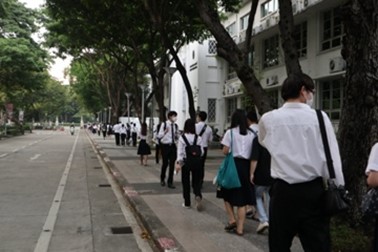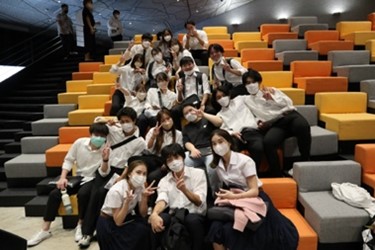 After the campus tour, we had a welcome dinner party prepared by Chulalongkorn University. We had a great time and got to know each other better.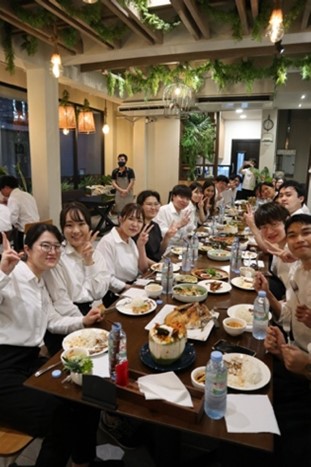 On October 26th, 8 people from Chulalongkorn University participated, and the group left for Chiang Rai from Bangkok on an early morning flight. Visited MFU (Mae Fah Luang University) in Chiang Rai. Professor Rapipong and 10 other students welcomed us. MFU students gave presentations on the university and the history of Chiang Rai.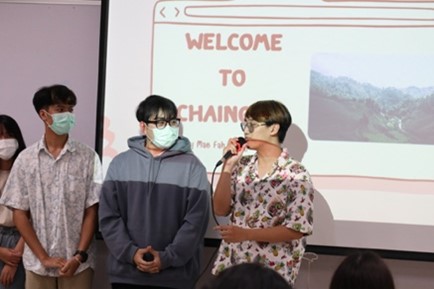 Campus tour with students after the seminar. Japanese students were amazed at the relaxed and spacious campus. During the tour, Yotopa, whom we met when we visited MFU with Asian Beat a few years ago and has been friends with for a long time, suddenly appeared, and the reunion with staff Haruna Kobayashi caught the attention of the people around them.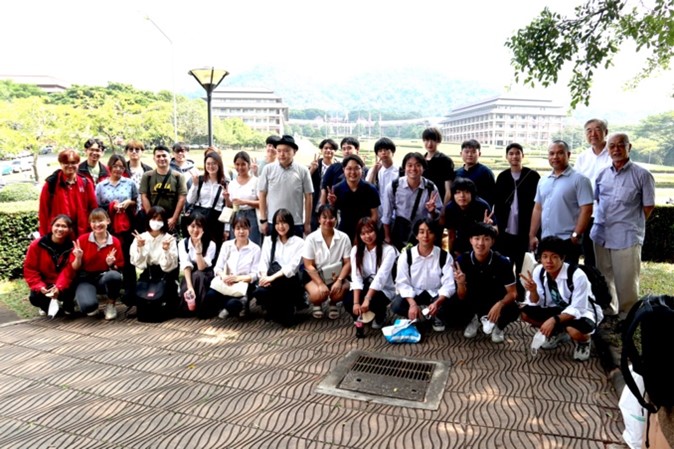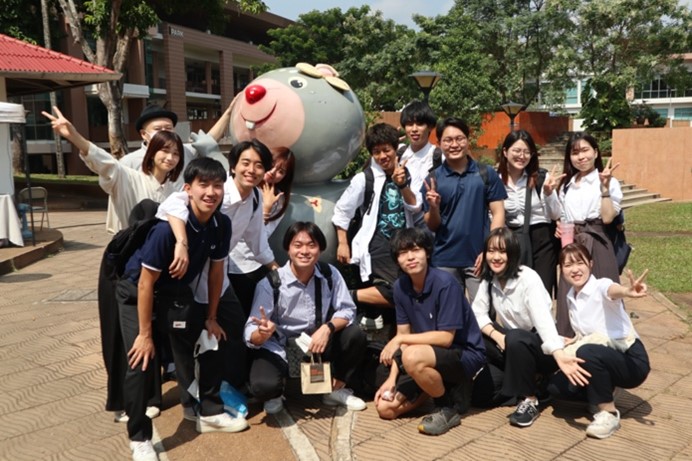 10 MFU students, Dr. Rapipong, and Yotopa joined us to MKF, an orphanage for mountain tribes in Thailand.
Mr. Sekiguchi, who showed us around the slums, also joined us. After graduating from university, Mr. Sekiguchi spent seven and a half years in MKF through volunteer activities.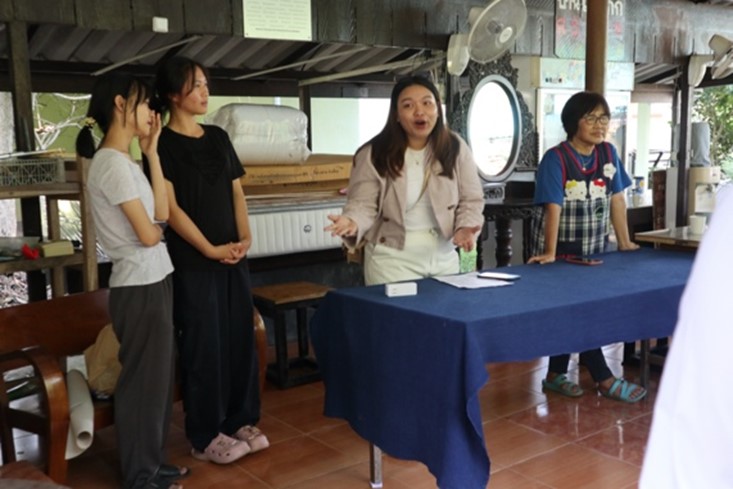 Before dinner, Mr. Sekiguchi became a lecturer and talked about the mountain tribes in northern Thailand, the disparity between cities and rural areas, the problems of education for children, discrimination, and poverty, and the discussion progressed with the students. We also interviewed Mr. Tobe (former principal of Seigakuin Junior and Senior High School), who was one of the people who contributed to the establishment of this facility and now lives here, about the current MKF children and their situation.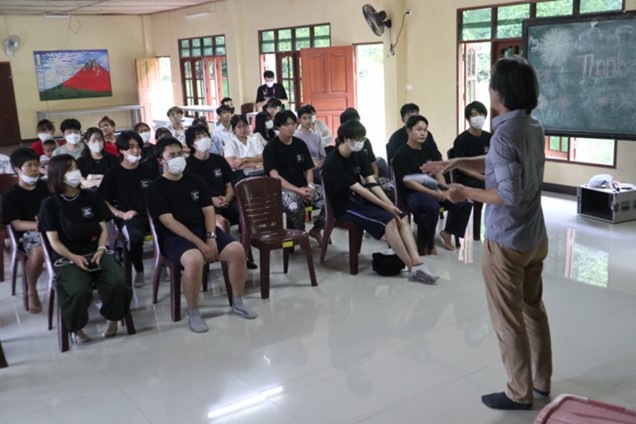 Interact with MKF children at night. The children dressed in national costumes performed a dance. Afterwards, everyone spent time on the banks of the Kok River, raising Komroy (lanterns) in the starry night sky, and interacting with the children through fireworks and other activities.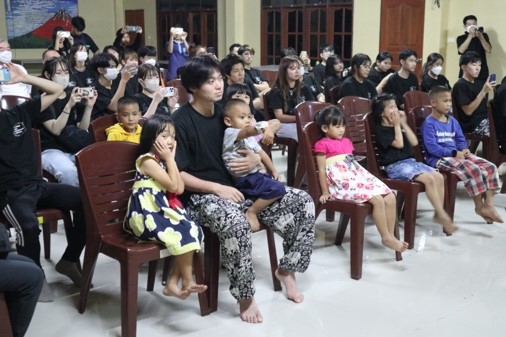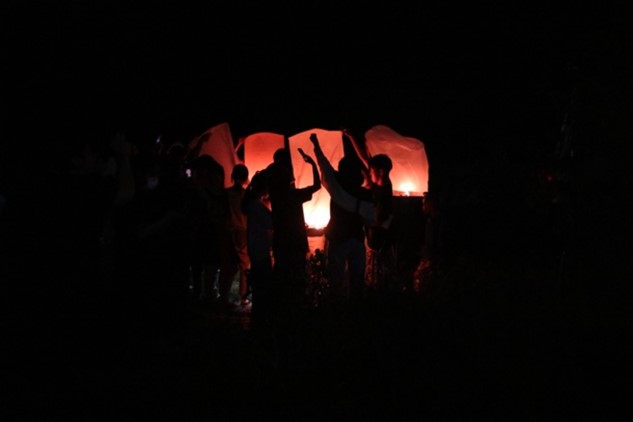 On October 27th, we rode elephants on the opposite bank of MKF and visited a minority mountain tribe village.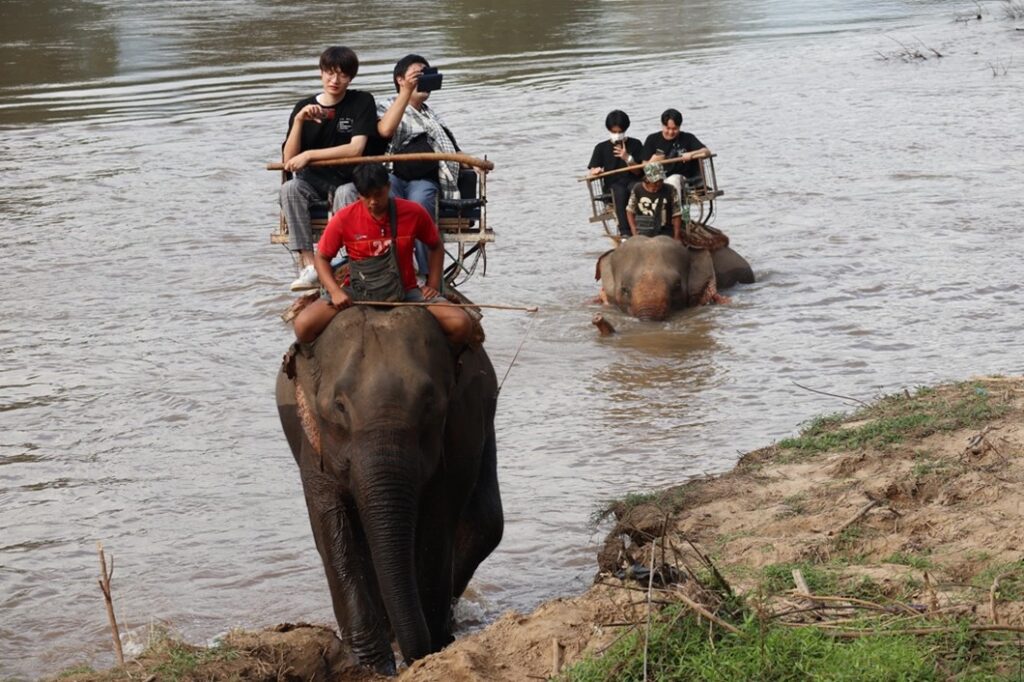 After lunch, we said goodbye to our MFU friends and left for Chiang Mai. Compared to 3 years ago, the road conditions were improved, and it took about 6 hours to travel by bus.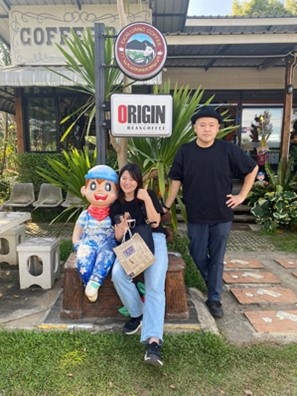 After settling down at hoshihana, which is run by Ban Rom Sai in Chiang Mai, the group got up early the next morning and inspected the morning market (Hang Dong Market). While having breakfast there, we observed the people who live in this area.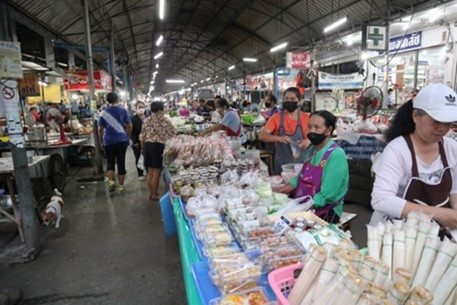 Returned to hosihana and visited the adjacent Ban Rom Sai. This is an orphanage for children of parents who have suffered from HIV infection and children who are forced to live in poverty in the community. We divided the group into Thai and Japanese, and listened to stories in their mother tongue about the establishment and current situation of the facility. The Japanese students received an explanation from Ms. Miho Natori, the daughter of Ms. Miwa Natori, the founder of Ban Rom Sai, with whom they have been connected through online study sessions. Miho-san rushed from Japan to coincide with our visit. She was very happy to be able to talk with students who could only talk online and welcomed us.
We then played soccer and badminton with the children at the facility who had been looking forward to our visit. The students were amazed at the children's soccer skills.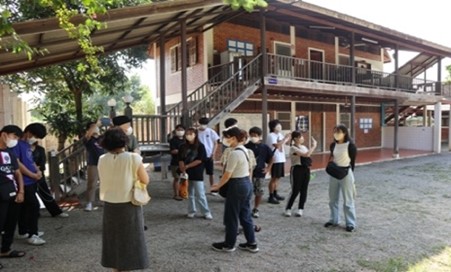 After lunch, a Chulalongkorn student guided us to Chiang Mai. We visited "Doi Suthep" temple at an altitude of 1080m, which is the main mountain of Chiang Mai. Built in 1383 by King Kuna at the time, it is a large temple that is still worshiped by people today. Walk three times around the golden stupa, which is said to contain the relics of Buddha, and offer prayers. I went around with an incense stick in my hand and prayed that everyone would be able to safely return to their home country after finishing this tour. From here you can see the city of Chiang Mai.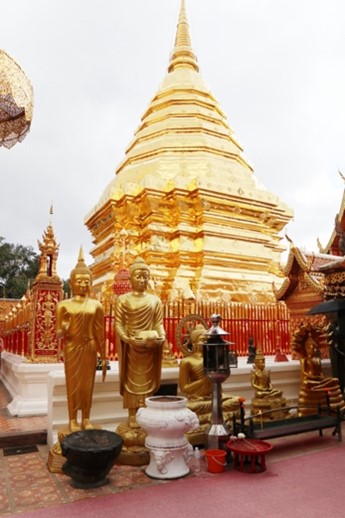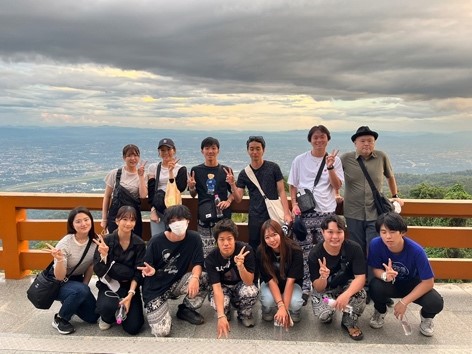 On October 29th, we returned to Bangkok in the afternoon and went for sightseeing in Bangkok city with friends from Chulalongkorn.
On October 30th, there was a farewell party (review meeting) that will also serve as lunch in the late afternoon.
The memories of the tour so far and the feeling of gratitude to Chulalongkorn's friends who have acted together with each other were talked and exchanged, and the story never ended.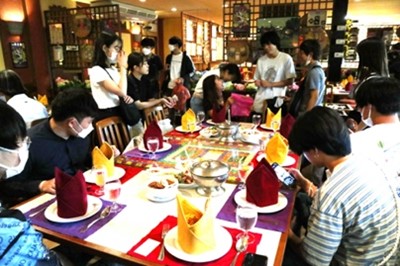 After the "farewell party" where we reconfirmed our friendship, the tour group returned to Japan on a late-night flight that day. We arrived at 5:40 am on the 31st.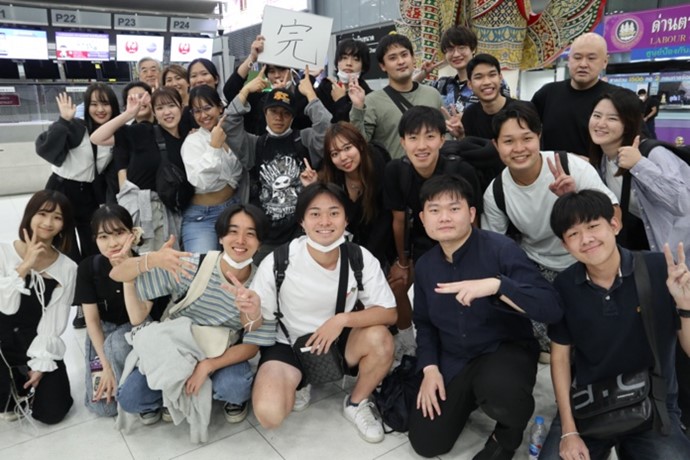 2022 Participants of the "Northern Thailand Study Tour"
Chuo University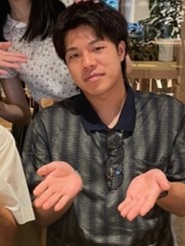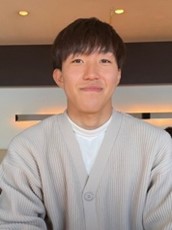 Saitama University
Chulalongkorn University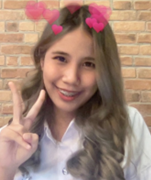 2022/11/23